Oman Insurance shines bright at Customer Happiness Summit and Awards 2021
Posted on October 24, 2021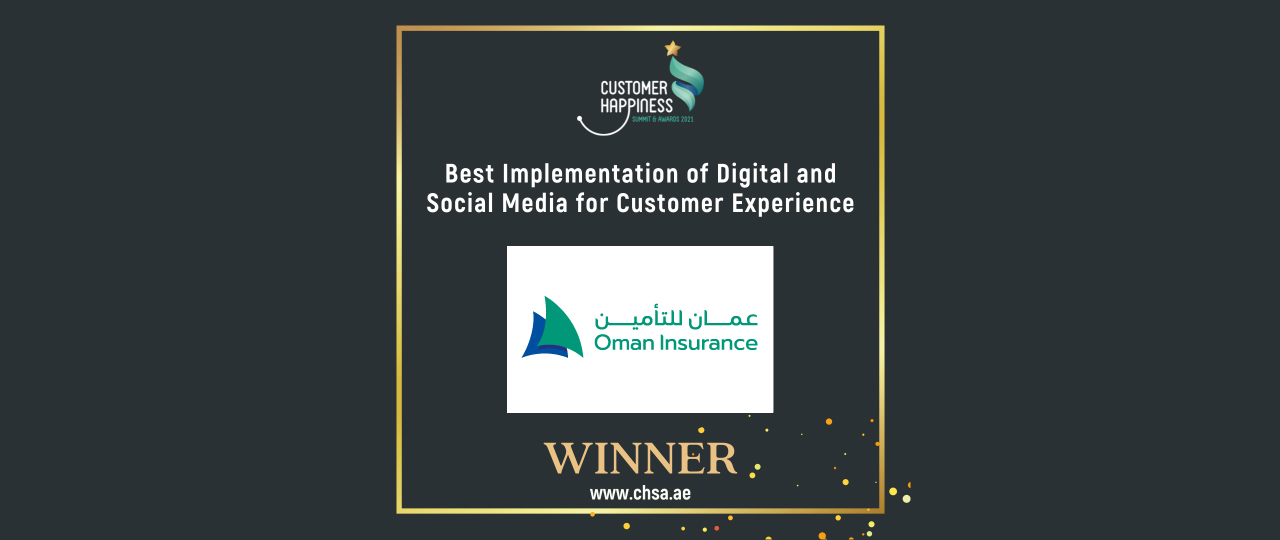 Oman Insurance has emerged as the winner of the 'Best Implementation of Digital and Social Media for Customer Experience' award presented at the Customer Happiness Summit and Awards 2021. The award is a reflection of the company's customer-centric initiatives and their philosophy to keep customers at the heart of everything they deliver.
The Customer Happiness Summit and Awards is a well-recognised standard of excellence that honours the most effective strategies to improve customer satisfaction across industries.

Setting an example in the Middle East insurance sector
Last year, Oman Insurance made consistent efforts to reach out to customers in platforms that are sustainable, easily accessible and, ultimately, convenient. This was especially pertinent with the onset of the pandemic during which the company created a benchmark by launching a plethora of digital initiatives, ensuring undisrupted customer service.

Their efforts in deploying remote connectivity resulting in 95% of employees to work safely from home and consistent 99.9% IT service availability levels despite the challenges during lockdown, were particularly applauded by the jury members. The smooth transition enabled Oman Insurance to concentrate on augmenting their existing digital channels and further expand the company's arsenal with digital tools to reduce turnaround times. The 50% reduction they achieved in the motor claims processing time and the launch of the 24x7 teleconsultation services for their medical members are just two of several examples in this regard.

The company also used social media to promote a culture of fitness even while residents were stuck at home. Through LivFit, they hosted weekly workout sessions under the 'LivFit Live' programme wherein different kinds of training regimens were featured.
The launch of their state-of-the-art website in less than 4 months of initiation of the project is a testament to their commitment to improving customer experience.

Going forward, Oman Insurance aims to increase the momentum of their digitisation programme and bolster all business lines with the most advanced digital tools.