Sukoon Insurance and AG Cars exclusively partner up to offer best quality car repairs to customers
Posted on October 17, 2022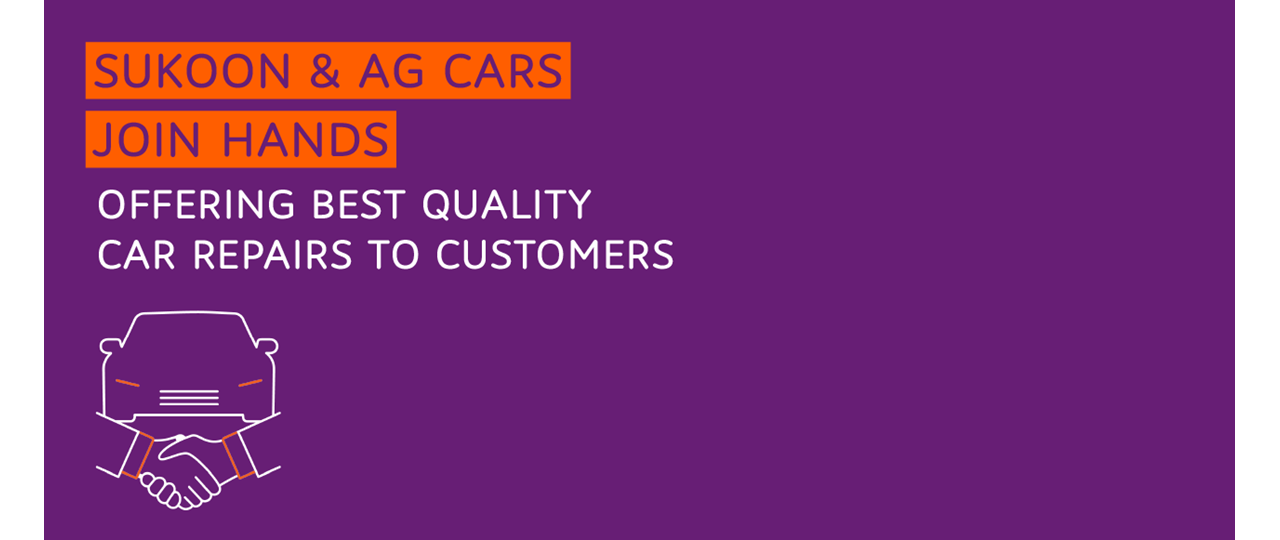 Sukoon Insurance has signed a strategic partnership with AG Cars, the largest premium multi-brand car service center network in the UAE, to reinforce its position as the most trusted, convenient, and quality focused car insurer in the country.
With 40 years' experience in the automotive business, eight locations across the UAE, and a 5 Star rating from the Emirates Authority for Standardization and Metrology (ESMA) reflecting its high-quality standard of repairs, AG Cars will offer Sukoon's clients access to a dedicated service advisor, free pick-up and drop-off for HNW clients and most importantly, a 12-month repair guarantee.

Jean-Louis Laurent Josi, CEO of Sukoon said, "In 2020, Sukoon was the first company to introduce a fully digitalized motor claims process. Today, at a time when many insurers sell cheap insurance and cut repair cost by sending accidented cars to lower quality garages, Sukoon is doing exactly the opposite by partnering with a first-class garage network like AG Cars. This will allow Sukoon to offer unparalleled quality of repairs and peace of mind to its clients." He added "We are delighted to partner with a trusted brand like AG Cars to get our customers' vehicle back on the road in the best condition on top of several exclusive advantages by using AG Cars."

To provide greater value to all Sukoon customers, AG Cars will exclusively offer 12 free carwashes per year and up to 50 percent discount on a wide range of automotive services from window tinting and oil change to vehicle maintenance. Moreover, Sukoon clients will have free access to the VIP lane while testing their cars during vehicle registration at RTA-approved Vehicle Testing Centers in Deira and Al Mamzar.

Dr. Arturo Lujan, CEO of Al Ghurair Ventures said, "We are proud to partner with Sukoon, a leading provider of car insurance in the UAE, offering their customers a wide range of car repair and top-quality maintenance services. Proud to be trusted by generations across the UAE, our core focus at AG Cars has always centered around trust, quality, convenience and transparency for our customers. We are confident of our commitment to enhance the service experience of Sukoon's valued customers, through our highly trained mechanics, national network and value-added services such as 12-month stress-free repair warranty, pick-n-drop, and VIP services, amongst others." He added, "Sukoon's selection of AG Cars as their trusted partner is testament to our continued pursuit of better, in all we do, to enhance customer experience."

Sukoon already provides a fully digitalized motor claims system allowing First Notification of Loss directly at the garage, quick approval time for repairs and SMS notifications at every stage of the process. This partnership with the leading garage network will reinforce Sukoon's quest to offer exceptional protection to its car insurance customers.