Oman Insurance Company to share expert insights on Technology in Financial Services at Reuters global technology event
Posted on October 26, 2021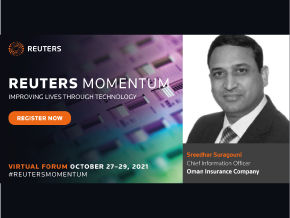 Oman Insurance Company has confirmed it will address the topic of 'How do we supercharge customer centricity in financial innovation' at Reuters Momentum – the leading global emerging technology conference and executive virtual event.
Speaking on behalf of the company, Sreedhar Suragouni, Executive Vice President – Information Technology, will explore how financial innovation will influence the future of fintech.
Commenting on the occasion, Sreedhar said, "I am delighted to be part of the panel discussion, representing one of the largest insurers in the Middle East. At Oman Insurance, we have been implementing numerous digital initiatives as part of our customer-first strategy. I am confident that the session will have a lot of insights for the viewers and experts from around the world will come together to share their experience and learnings."
Running from October 27-29, Reuters MOMENTUM will bring together more than 25,000 executive attendees to hear from the world's most influential technologists, policymakers, NGOs and business leaders.
For more information on Reuters Momentum, visit https://reutersevents.com/events/momentum/.